One aspect of a writer that I look for in a potential client is that she has a sense of who she is and what she should write. Not in a "I love my novel and WILL get it published" kind of way, but more in a "I know I'm meant to be a writer" way. This is someone who will write regardless who–if anyone–ever reads her stuff. When a writer realizes this is the case for him, that forms the beginning of finding the solitary place in yourself from which all the best writing springs. But writing authentically doesn't come easily–and sometimes, after having found it, it drifts away from us.
Why Writing Authentically Is Hard
Part of the challenge of finding our authentic voice is that we learn to write by imitating others. That certainly was the case of me.
I always wanted to be a writer, and as I was growing up, I wrote a novel every summer, wrote poetry, and dreamed of what I would say in my Pulitzer-Prize acceptance speech.
But the truth of the matter is that I was more of a reader than a writer. So, when I joined the staff of Cru and was assigned to the publications department to–of all things–write full-time, I didn't just feel like a fraud. I was one.
Never one to admit defeat easily, I decided, if I was to succeed at this writing business I better figure out how to write. So I began the process by imitating good writers. I studied magazines (this was back when magazines were a big thing). I studied writing that was excellent, and I studied it in a microscopic way and in a macroscopic way. All was of interest to me–the use of punctuation, word choice, transitions, opening paragraphs, closing paragraphs, when quotes were used–everything.
Finding Your Voice
But moving from imitation to finding your own voice is challenging because writers view themselves as not really a writer who is just waiting for the world to realize that truth. Even best-selling, award-winning writers tend to think of their inadequacy rather than their competency.
But the truth of the matter is that we're growing organisms who discover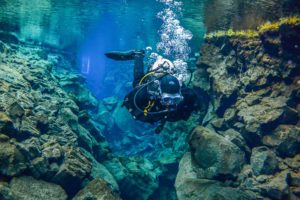 facets of our authentic selves as we write from as deep and pure a place within ourselves as we can. Our job is to painstakingly plumb our own depths. For that is where authenticity resides. If we swim only in the shallow water, nothing fresh will spring from our fingertips. This is the easy path to completing the writing assignment. We don't bother to search for the pearl of a verb or a twist of phrase that pleases both the reader and you. This is also where we feel no vulnerability. The truths residing in us aren't wrested from the ocean of our lives, but we write about pat solutions that neither inspire nor challenge the reader.
Authenticity and Dr. Zhivago
I've been reading a book (The Dr. Zhivago Affair) about Boris Pasternak's writing of Dr. Zhivago, and what a driving force finding his authentic self through the writing was. Famous for his poetry, he had been a Nobel Prize finalist three times and drew overflowing crowds in massive auditoriums to listen to him recite his poems. He sometimes even paused in the recitation, pretending he couldn't remember the next line of a poem because the whole audience would call out that line to him. What pleasure that must have brought.
But he felt like an imposter because he had not yet written the novel he so yearned to create. He likened himself to a painter who spent his life drawing sketches in preparation for the painting of his lifetime.
Writing Authenticity Leads to Exuberance
It took him ten years to complete Dr. Zhivago, but he knew it was his magnum opus. The exuberance he felt as he explored the deep well within himself can still be felt in the words he used to describe the experience. "I am in the same high spirits I enjoyed more than 30 years ago; it's almost embarrassing." It seemed to him that the days and weeks were whistling past his ears. "I wrote it with great ease. The circumstances were so definite, so fabulously terrible. All that I had to do was listen to their prompting with my whole soul and follow obediently." It's inspiring stuff to read the thoughts he penned in his journal and in letters as he kept his friends apprised of the novel's progress.
Pasternak was at the end of his writing career when he finished Dr. Zhivago.  (He was 65 and would live for only five more years after the novel was completed). For him to discover so much about himself at that stage of his life is heady for us consider. The rewards of writing authentically never grow tiresome.
Writing Authenticity Often Is Costly
But Pasternak was told that the novel into which he had poured his soul would never be published by a Russian publisher. It was viewed as too individualistic for a Soviet writer. All writing, whether a news article or a poem or a novel must praise the communal life and Communism. The individual must not rise up in any writing to be viewed as noteworthy.
So Pasternak pressed the full manuscript into the hands of an Italian publisher who had come to visit the famous poet and to inquire what he might be currently writing. Boris desperately wanted the world to read the novel even though Soviet leaders were regularly killing any intelligentsia who refused to tow the party line. As Pasternak pushed the fat sheaf of paper into the publisher's hands, Boris said, "I give you this along with an invitation to my execution." Writing authentically instills power and conviction in the author.
How Do You Know if You're Writing Authentically?
A test for whether we're writing authentically is to pass all one's writing and publishing decisions through the sieve of Philippians 4:8:
Finally, brothers and sisters, whatever is true, whatever is noble, whatever is right, whatever is pure, whatever is lovely, whatever is admirable—if anything is excellent or praiseworthy—think [write] about such things."
Should you find yourself tempted to borrow an especially lovely phrase from a novel you just read to use it in your fiction, that most certainly is not in keeping with Philippians 4:8. If you set aside your contracted manuscript, knowing you'll miss the deadline, to accept an unexpected writing assignment with significant money attached to it, that will not pass the Philippians 4:8 sniff test. What if you dash off a manuscript with a certain carelessness to meet the deadline? That is not a noble undertaking, nor is it praiseworthy.
Writing authentically can be inconvenient. Actually, it often is.
How Do You Marry Writing for the Market and Writing What You're Eager to?
Certainly Pasternak paid no mind to what the market demanded of him–which was more poetry. He was condemned by every newspaper and media outlet in the Soviet Union when he won the Nobel Prize for Dr. Zhivago. Most of his friends ostracized him, and the government refused to allow him to accept any of the royalties from the numerous foreign publishers who had made Dr. Zhivago an international best-seller. But Pasternak told the Nobel committee he would accept the award. That is, until the pressure on him became too great, including his mistress and her daughter being sent to the Gulag as surrogates to punish Pasternak. At that point he wrote to the committee that he would not accept the award after all.
But we live and work in a different world. So how do we balance writing what we feel passionate about with writing what the market wants?
The Head-and-Heart Combo
I always tell authors, as they consider what they're writing and how they'll approach a project to listen to their head.
what's does the reader want
what's being published
and what will sell?
And then listen to their heart
what do they yearn to write
what are they passionate about?
Never exclude either your head or your heart. Both have their own wisdom to offer. Not, go forth and write authentically.
Which techniques did you use to learn how to write when you first started? What have you written that reflects your authentic self? Which author comes to mind as someone who writes authentically?