Blogger: Michelle Ule
Filling in for Wendy Lawton, who is traveling on business today.
When I finished writing my first  novella,I felt proud about completing it several weeks before the deadline. I tweaked it a bit here and there, used a word census to make sure I'd crafted it well, but was pretty confident about the quality.
I felt sentimental about sending it off the editor in the publishing house, far from the cozy computer where the manuscript and I had lived together for so many weeks.
Then I forgot about it, except with nostalgic fondness. I expected to see it next in print. Thrilling!
Except, what I saw next wasn't a printed and bound book.
It had been through the editing process by a real live professional editor, and now it was time for me to work on the COPY EDITS. I had no idea I would have the opportunity–and responsibility–to review what the editor had done and make corrections to my baby. Sometimes the editor asks you questions about a segment of the manuscript. Sometimes the editor has changed wording, and you can weigh in on whether you think the change works. Other times the editor suggests you make a change that adjusts a thread running through the entire manuscript.
For me, this was my last chance before The Dogtrot Christmas would be published to review all the work that had been done on it since I saw it last.
I was given a couple of weeks to complete my review. But I was leaving, soon, for Budapest!
What was I going to do?
For me, copy edits were the biggest surprise in the publishing process.
Here are three tips to help make the process less dramatic.
1. Be aware the copy edits are coming.
That was my first mistake.
I didn't realize how the process worked, and so I didn't plan for the time needed for the copy edits, nor the fact they were coming. That's happened to a number of my friends too.
Once you know you'll be receiving them, you can anticipate and make arrangements to keep your personal schedule relatively open for the time they're expected–usually within a couple of months of turning in your manuscript.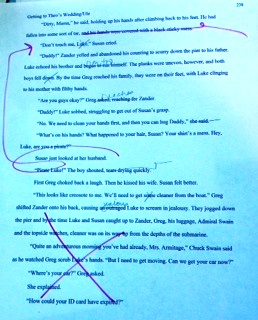 But, they arrive like labor–often coming when you least expect them or when life is intruding in other ways.
This can be particularly difficult when you're already deep in the writing of your next book. You have to set it aside and return to a manuscript you thought you'd finished months before. You have to immerse yourself back into that world–remembering the plot, characters' names and your theme.
Meanwhile, your mind may still be clicking along with the other story, and it takes willpower to focus on the task at hand–reviewing what your editor has said or changed (using track changes–you don't know how to use track changes? Learn now before you're thrust into the middle of copy edits!)
Several author friends have found themselves in inconvenient spots in life when the copy edits arrive.
Which brings us to point number two:
2. Stay in contact with your editor.
If you have a pressing personal engagement coming up–say getting married, having a baby, overseeing a wedding, traveling to Europe for a month–let your editor know upfront. That doesn't mean the edits won't come at an inopportune time, but it's possible arrangements can be made.
You want to do your best job with your edits. The earlier you can let the publisher know you may have problems with the schedule, the better for all.
Similarly, you should try to give yourself some buffer room in your schedule about the time you expect edits. Perhaps your editor can give you a time frame.
In my case, I was able to complete my edits pretty quickly and made the plane to Budapest easily–with a big chore out of the way. (I wrote about that experience here).
One friend, however, was on a very tight schedule, and her edits arrived just before she flew to the Mount Hermon Christian Writer's Conference. We saw little of her at the conference. Any time she wasn't attending a class, she was in her cabin working on her edits.
I was impressed.
Sometimes, however, events get out of control–whether in your life or that of your editor. That's the reason for the third point:
3. Make sure your agent is informed.
As in any step of the publishing process, if you have even the slightest inkling of a problem that could hamper your ability to perform as you pledged to in your contract, let you agent know as soon as possible.
If you have a family crisis, let your agent know. Sometimes there is wriggle room in the editing process if your agent knows early on.
Even if you are hopeful you can finish in time and will work like a banshee to see it through, let your agent know–just in case.
Agents are people, they understand how life works. Let him or her contact the publishing house if you're going to miss your deadline.
In the meantime, happy editing! (Even if, as in my case last week, it means you're getting up at 4:30 to edit for three hours before the Thanksgiving house guests wake up…)
What techniques have you used to ensure you get your edits done on time?
Tweetables
Copy Editing: Make sure you know Track Changes! Click to Tweet
3 Steps to make copy editing less dramatic. Click to Tweet
Potential personal problems? Let your agent know early! Click to Tweet