Blogger: Michelle Ule
Sitting in for the traveling Mary Keeley
In response to my post last week about "Plotting to Save Writing Time," I mentioned in the comments that someone I knew had written an 85,000 word novel in 19 days.
I decided to ask her how she did it.
This post, therefore is a follow up.
The writer, Sarah Tipton, lives in Alaska with her husband and five home schooled children.
She's also a runner.
In addition to the novel she finished last Friday, she wrote another one in November for NaNo–and that one took her 15 writing days.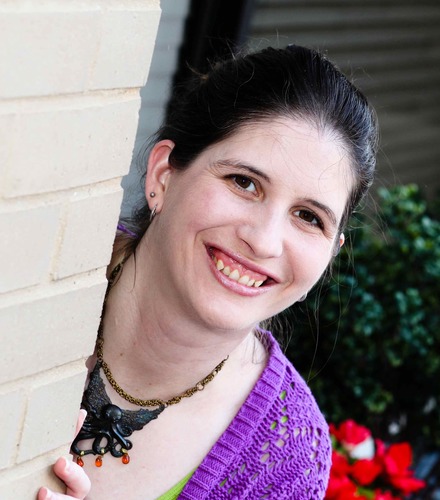 Neither of the two projects have been extensively edited, Sarah explained, but the reworked opening chapter of the November project is a semi-finalist for the Genesis contest.
So, how does she manage such extensive writing with a busy family?
"When planning to write a novel in such a short time, I completely clear my schedule as much as I can. We homeschool, so I have the luxury of taking vacations when they fit our schedule. Also, my kids are older now—7-14 years old—so they're able to help around the house. They already do their own laundry and each has a cooking day every week, so that frees up some of my time.

"Those are also things that we worked on as a family for months before I ever tried writing a novel in a month. My husband and I go to a 6 a.m. gym class year 'round, and the kids' have a gym class 3 days a week which I can't clear off the schedule, so I run during that hour.

"My husband told me years ago, when I first started writing, that he liked spending time with me in the evenings. So I stop by 8 p.m. I also try to meet my word count in time for dinner, but I don't feel guilty about working through dinner because it's just 4 weeks. And I joined the kids during lunch and read to them then, so it's not like I go into total hibernation."
Sarah has a room in which to write with a door to shut out the noise–though she notes the Wii and a television are in that same room which means the kids don't get to use it during her marathon writing sessions.
"I often play music through the surround sound speakers while writing, so that drowns out any loud noises from elsewhere in the house. Most of the time, the kids are really good about not interrupting. Because of that, I make sure we all go out to celebrate after I write "The End," and I tell them that they helped make it all possible."
It should also be noted her husband and children do the laundry.
What motivated her to write in such an intense fashion?
I decided to try writing a novel in a month because I'd spent almost 18 months not finishing a manuscript. My first manuscript was completed in 7 months—idea to agent submission—so I felt confident I could accomplish that, but what seemed to be getting in my way was to have only a couple of hours here or there to write.

With only 2-3 hours at most a day at my computer, I couldn't make much progress because there's always other writing related things to do too—emails, critiques, etc. So I hoped that by clearing my schedule and working on only one manuscript and no other writing related things, I'd find the focus and the word count goal would help me finish another manuscript.

And it did!
Since Friday's post was about plotting to increase speed, I asked Sarah how much plotting she did before sitting down to write.
"I haven't found a consistent plotting style that works for every manuscript. But for both the NaNo project and the more recent one, I wrote out a summary of each chapter before writing.

I did not write a summary for each chapter prior to starting the writing process though. Both times, I had only about half the manuscript thought out and summarized.

On the weekends, I'd look ahead in the story and prepare for another quarter.

For NaNo, my chapter summaries were pretty close to what I wrote and I only had to add-to on the weekends.

For the more recent project, I found the story didn't progress at the speed I'd expected and I ended up rewriting future chapter summaries after the first week.

While the scenes rarely play out on paper exactly like they play out in my head, the goal and the plot don't usually deviate too much. So I find taking the time to daydream the story and take notes on it helps the writing to go faster."
The novel ideas, however, didn't spring from her mind the minute she sat down. Sarah had been thinking about her stories long before she began to type.
"I spent months or years thinking about these characters and the story prior to doing any real work on it—plotting or writing. And another advantage to writing a novel this quickly is that you never really leave the story world. The plot, the characters, the emotions are always right there with you."
It's possible the genres Sarah chose made a difference in her ability to write quickly. The NaNo story was a contemporary young adult. Last week's manuscript was a dystopian YA. An historical might have posed other issues that could have slowed down the writing.
The most important fact, to Sarah, was she was very familiar with her story worlds and characters before she started working on the projects.
She doesn't stop along the way to fact check when she's writing, "I did have to look at a calendar to figure out the timeline and weather while I was writing."
Sarah used placeholders for items she needs to go back to during the editing stages.
"I  have a few places where I just didn't feel like thinking of names, so one character is [MUSICAL DIRECTOR] which will make the Find-and-Replace easier when I come up with a name.

One night I was tired and put [SOMETHING ELSE, I'M TIRED] instead of completing a sentence.

If it's not going to affect the plot, I'm comfortable with writing a placeholder and moving on."
After such an intense writing period, does she get tired of the story?
"Both times, I found myself sad when I was finished writing. It felt like I'd spent an intense three or four weeks hanging out with these really awesome people, and now they've boarded a plane and returned home.

Editing is more like emailing or calling them on the phone—no new, exciting adventures involved—and I find editing to be more tiring than writing. That's when I'll spend tons of time analyzing and agonizing over scenes and details."
Speaking of editing, how much does Sarah anticipate needing to do?
"I have about 2 pages of content editing notes. Little things that occurred to me while writing or things a critique partner pointed out. (I had a critiquer reading what I wrote each day this last time because I wanted any story world issues that might affect the plot to be dealt with immediately.)

The NaNo project I spent a week applying those content editing notes and doing a light edit before sending it to a few critiquers for content critiques.

In about a month, after I see the Genesis scoresheets, I'll be starting a deep edit on that project.

Since I'm back to only 2-3 hours a day to write—and that won't be exclusively spent editing this manuscript—I anticipate spending 6 months on editing."
How long did it take for Sarah's adrenaline to slow down?
"I think I rode the high all weekend!

Knowing you've been successful carries on to the next time you are ready to write a novel in a month.

Then, of course, you're hit with the "what if I can't do it again?" fears, but you've got to push them down and face the new manuscript without any expectations, yet with the confidence that you've done this before and can do it again."
She is exhausted when she finishes, and usually plans a week of vacation afterwards to recover before she returns to her normal homeschooling routine.
Sarah had one more additional point for writers to consider.
"One thing I wanted to add, especially to that article that you shared in your previous post, is to include God.

Pray about the writing every day, and praise him for meeting daily goals.

Honestly, I think it's the prayer that made the biggest difference in meeting the write-a-novel-in-a-month goal."
You can learn more about Sarah Tipton at her website:www.sarahtiptonbooks.com
Tweetables
HOW do you write a 75,000 word manuscript in 19 days? Click to Tweet
Tips for writing a manuscript fast! Click to Tweet
The secret to writing fast: plotting, planning and not stopping Click to Tweet