Blogger: Michelle Ule,
filling in for the camping Rachel Kent
Following up on Mary's blog from yesterday, now your manuscript is clean, how to put on the finishing touches!
It can be hard to know when you're done, but when I reach a certain point in the work,I know it's just about over.
The manuscript must be nearly complete when I'm reduced to looking at words–individual words–and thinking about how to improve them.
I've written before about using a word census; I think it's an important tool and a necessary one when you're at the end of refining those finishing touches.
Five steps to put the finishing touches on a manuscript
1. Read the manuscript in a different format.
I email it to my Ipad and read it there, making note of words I seemed to use too frequently.
Novelist Lori Benton reads her manuscript aloud–the entire thing. Your ear will enable you to hear words your eyes speed past.
(As an added bonus, you could read your manuscript into a tape recorder or other device, make a copy and give it to your mother for Christmas!)
I had ten pages of notes when I was finished reading  on the Ipad. I returned to the manuscript and made the corrections.
2. Examine your usual problem words.
We all have  some words we overuse, you know? The trick is to just go back through  and find them. I have about a dozen darlings that turn up all the time.
How many of my "weaknesses" can you find in that paragraph?
Eight.
(That, all, have, some, back, about, turn, just)
I clean out those over-familiar words first!
3. Run a word census.
The Scrivener writing program has a word census feature built into it.
I don't use Scrivener, so my husband wrote me a "macro" for my Word program and I ran that.
The list of words (one word per line plus the number of times used) was 195 pages long–or, half the length of my manuscript!
4. Review most commonly used words.
First you have to determine which words you've overused!
My macro told me I used 8962 different words.
Out of a 102,500 word document, I used "the" more than 5,367 times. The second most commonly used word was "to" at 2873 uses.
Others in the top ten include "and, a, her, you, in, Claire, of, I, she and he."
Claire is our heroine.
Other than the protagonist's name, the others are words your eyes read by without lingering. I needed to know what words indicate a potential problem.
5. Examine potential problem words.
You may have to read down into your list a distance.
"Have," for example, was used more than 420 times in my manuscript.
It's a perfectly fine verb, but it can be used as a compound verb and thus is problematic.
I worked through the manuscript using the "find" feature and examined every single "have" in the nearly 400 pages.
It took two hours.
I adjusted verbs, strengthened sentences, changed word orders and when I was done, only had 310 "haves" in the project.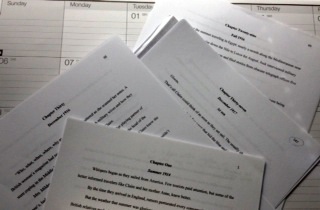 An interesting thing happened on the way to my finishing touches: the number of words in the entire manuscript shrunk. Click to Tweet
All that tightening up, simplifying verbs, strengthening word choices and rewriting sentences resulted in my manuscript's word count reduced to 100, 435.
It reads much better now.
Both aloud and through the eyes!
What do you do to put the finishing touches on your manuscript?
How do you know when you're done?