How to get to "yes"
Blogger: Janet Kobobel Grant
I recently discovered the #1 hardback New York Times best-seller, Humans of New York. The author, Brandon Stanton, began the book quite without a plan to create a book. He was new to NYC, didn't know anyone, and didn't have a job, having moved from  Chicago after losing his position as a bond trader. So he grabbed his camera and went out on the streets.
His plan was simple: walk up to someone and ask, "May I take your picture?" Most turned him down,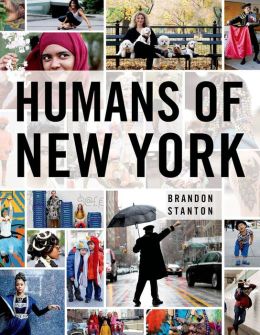 but some agreed. Soon he added another element to his work. He asked the person who agreed to be photographed about his or her life. "What's the saddest moment of your life?" or "What are you hoping for?"  And they often answered.
One man told Stanton about how he was afraid because he had prostate cancer. A young woman told Stanton she was angry with her boyfriend, who was standing next to her but apparently had no idea she was estranged from him. A 43-year-old maintenance worker unfolded his tale of, as a youth, hoping to be a major league baseball player, but a motorcycle accident resulted in a leg injury that dashed his dreams. After telling his story, the man paused and said, "I don't know why I'm telling you that."
So much fascinates me about this book's concept. (You can read the New York  Times article about it here.) Why, for example, are people snatching up this book of hundreds of photos of people who live in one city (albeit a fascinating and teeming city)? Why did Brandon find the idea interesting enough that he would face being regularly rebuffed by others? But the question that I really focused on was why did people say yes?
Perhaps they were startled into agreeing at first, or they were flattered to have someone ask to take their picture. Maybe it felt good to be selected.
But even more curious is why did they open up to him and tell him details about their lives that either no one knew or that the subject had carefully tucked away to bring out only when it felt like a safe moment?
That question took me back to a book I read earlier this year, Influence: The Psychology of Persuasion. A classic book that those involved in sales have read for decades, it unveils studies of what makes us say yes–even when we don't mean to. I recalled that one path we travel to get to "yes" is to agree to some small request, such as, "May I take your picture?" Once we've moved onto the yes grid, we tend to stay on it. So, when Brandon Stanton approaches us, and we let him take our picture, we're pretty likely to agree to answer his questions about our lives.
What does that mean for us in our writing careers? If we want someone to say yes to a big commitment, we should ask for a small one first. That's how it works when an author asks for an endorsement. Rather than asking for the endorsement, you're much more likely to get it by asking if that person will read your work, even a portion of it. Then, if he likes it, ask if he will endorse it. Once someone reads your work, he has to veer off the "yes" path to say no, which is much harder to do than one would think.
One of my clients wanted to use Library Insider, a national database of acquisitions librarians, to get more of her books into libraries. Her publisher assured us that they were very good at reaching libraries, and LI wasn't a good investment. So we asked if marketing would be willing to do an experiment. If my client bought the database for a set number of states, would the publisher pay to have the results of the campaign monitored? The marketing director, finding this a minor request, agreed. We then asked if the publisher would design and print the flyer and pay for the mailing. Having said yes to the smaller request, the marketing director agreed to the larger request–for a marketing idea he didn't think would work. (By the way, I was confident LI would result in strong sales; it has a very strong track record.
Just remember, when you want someone to say yes, make a small request followed by the bigger request.
What publishing yes are you yearning for? How could you implement this concept to your benefit? How could this concept be abused?

As a bonus question, how would you explain the wild success of Humans of New York?
TWEETABLES
The secret to getting someone to say yes–even if he doesn't want to. Click to tweet.
Want to move your writing career forward but can't get anyone to say yes? Click to tweet.
In a world of publishing no's, here's how you get to yes. Click to tweet.